2023 LAUNCH TOP SCANNER WITH J2534 PROGRAMMING, LAUNCH X431 PAD VII ELITE CAR DIAGNOSTIC SCANNER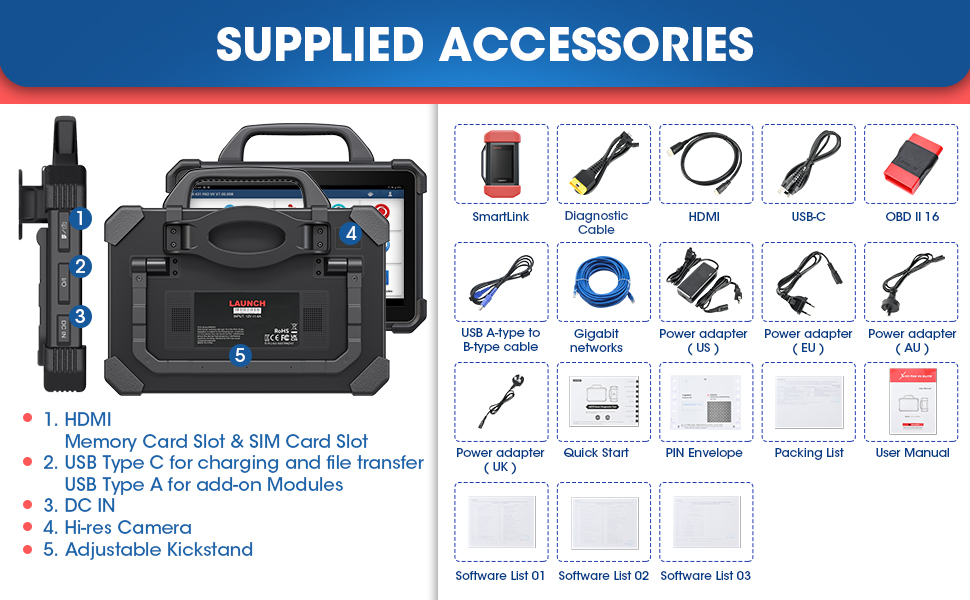 Wide Vehicle Coverage
The newly upgraded LAUNCH X431 PAD VII ELITE has also been improved in terms of vehicle coverage. The vehicle coverage upgrade is not limited to a particular country but refers to globally broad compatibility for commercial and passenger vehicles. (If you need to diagnose commercial vehicles/trucks, you need to purchase HD software separately which comes with truck adapter accessories, and then activate the heavy-duty module on the pad vii elite tablet.)
It is compatible with ABARTH, ACURA, AUDI, ASTON MARTIN, BAIC, BENZ, BINGLEY, BMW, BRILLIANCE, BUGATTI, BUICK, BYD, CADILLAC, CHANG'AN, CHANGCHENG, CHANGHE, CHERY, CHEVROLET, CHRYSLER, CITROEN, CMC, DACIA, DAEWOO, DAIHATSU, DODGE, FAW, FERRARI, FIAT, FIAT (BRAZIL), FUKANG, FORD, FORD (AUSTRALIA / EUROPEAN), FOTON, GAZ, GM, GM (BRAZIL), GMSA, GONOW, HAFEI, HAIMA, HONDA, HORTON, HYUNDAI, INFINITI, INDIA FORCE, ISUZU, ISUZU(TL), IVECO, IZH, JAC, JAGUAR, JEEP, JIANGLING, KIA, KOWLOON, LANCIA, LAND ROVER, LEXUS, LIFAN, LINCOLN, LUXGEN, MAYBACH, MAHINDRA, MARTHA, MARUTI, MAZDA, MINI, MITSUBISHI, MVM, NISSAN, OPEL, PAZ, PERODUA, PEUGEOT, PORSCHE, PROTON, RENAULT, ROLLS-ROYCE, ROMEO, SAAB, SAIC, SAIC AND MG, SAIPA, SAMSUNG, SEAT, SEAZ, SGM, SGMW, SKODA, SMART, SSANGYONG, SUBARU, SUZUKI, TATA, TIANJIN, TOYOTA, TRANSPORTER&V-CLASS, UAZ, VAUXHALL, VAZ, VINFAST, VISUAL, VOLVO, VW, WEILI, XIAMEN, XIAOKANG, XINKAI, ZAZ, ZHONGSHUN, ZHONGXING, ZOTYE
Supports Extended Function Modules:
VSP-600 VideoScope

: for up-close visual inspections in confined areas.

X-PROG & X-PROG3 Immobilizer

: for key programming & IMMO service.

S2-2 SensorBox

: diagnose and simulate vehicle sensor faults quickly.

O2-1 ScopeBox, Oscilloscope

: quickly acquire the circuit signal, and slowly display the waveform for easier analysis.

X-431 Wi-Fi Printer:

print out diagnostic data & reports.

X-431 TSGUN

: activate all sensors, relearn & program LAUNCH sensors.

BTS360 Bluetooth Battery Tester

: get a thorough test of the vehicle battery.
**Need extra costs to buy these function modules.